RGB LED tubes for outdoor and indoor applications. The most technologically advanced display comes with a range of innovative solutions. Allows you to view any content in the full range of colors. Equipped with REAL-LED technology, thanks to which the image colors are much more natural. The display is built from LED modules, which produce an empty surface. The display puts much less resistance to the air, so it does not nadwyręża the attachment. to the building. The risk of wind damage is reduced. An additional advantage is the low weight of the device. The modules can be arrange in any combination of shapes, displaying the same image as on a normal display.

Main advantages:
Individual elements can be combined in different ways – so you can get different shapes.
The innovative Tedtronix control system allows you to play movies and animations. In addition, the system is equipped with a live sound visualization function, so I get an unprecedented experience.
The lightweight, highly transparent modular design allows installation anywhere without burdening the wall or ceiling.
We are the manufacturer of the whole system so we provide any possibility of adaptation.
The modules are used with high brightness RGB LEDs (3 in 1 SMD).
The System is ideal for use with M in. In music clubs, discos, restaurants, hotels.
Technical parameters of one module:
| | | | | | |
| --- | --- | --- | --- | --- | --- |
| Type | Distance between diodes | The resolution of the | Viewing angle | Power Consumption (max) | Power supply |
| TB3x24R40 | 40 mm | 625px/m2 | 160 ° | 170 in | 230v |
| TB3x12R80 | 80 mm | 156px/m2 | 160 ° | 50 in | 230v |
The modules are connected together for larger displays. The average power consumption is at approx. 20-40% of the maximum value. Maximum power consumption is when all LEDs are switched on.
Additional Features:
The System is equipped with a live sound visualization function. Kiladziesiąt built-in visualizations are available with the ability to add your own.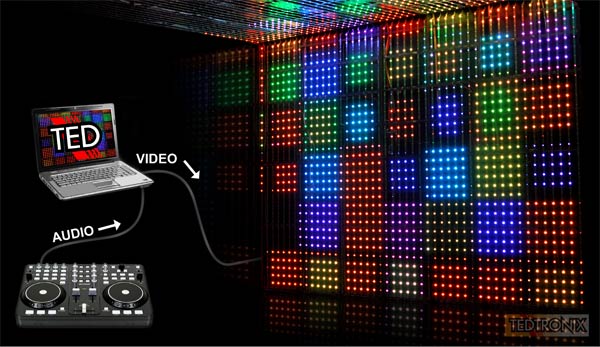 The advantages and capabilities of the animation program:
Create impressive transitions between frames
Importing animations created in other graphics programs, such as Flash, Swish
Combine multiple effects into one based on a single frame or animation sequence
Large text capabilities: ability to use system fonts and create effects on them
Ability to import individual frames as pre-prepared images and GIF animations
Preview a preset animation before copying it to the display
Easy operation
Works with Windows 98/Me/NT/2000/XP/Vista/7
Sample Videos/photos: